THE FLORA OF MIDDLE-EARTH
In Tolkien's books trees, flowers, trees and other plants, real and invented, present a characterisation of nature that plays an integral part of his depiction of Middle-Earth. As Walter Judd observes in his Flora of Middle-Earth, 'Nearly all of these plants are real species, and many of the fictional plants are based on scientifically grounded botanic principles'. Trees, flowers and plants join the multifarious characters in his imaginative writings. They intensify nature, its colour, its scents, its stirrings, its charms and in some cases its dangers, in the adventures of the inhabitants of his legendarium.
Professor Judd, aided by his illustrator son Graham, have produced an exhaustive and exquisite work that leaves no botanical stone unturned in an academic tour de force. Every plant in every region and age of Middle-Earth is painstakingly analysed. It shows that Tolkien had a intense and scholarly interest in the flora of his imaginary lands. An annexe to this webpage displays a few of the quotes from the many presented by Judd in his analyses of flora. The analysis of each plant includes a keen insight into its contexts, its etymology, its distribution and its botanical description. The annexe will open in a new window.
---
AN APPRENTICESHIP IN BOTANY
Born in the Orange Free State in 1892, John Ronald Reuel Tolkien moved to England at the age of four with his mother and brother. He never saw his father again who died in Bloemfontein in 1896. From that event until late 1900 his home was in the hamlet of Sarehole, a mile or so beyond the outskirts of the city at 5 Gracewell Cottages. It was here in Middle England that saw the dawning of The Shire. He wrote 'It is in fact more or less a Warwickshire village of about the period of the Diamond Jubilee-.... In another letter he wrote, 'The Shire is based on rural England and not on any other country in the world.' It was the opportunities for adventures and the exploration of nature for Ronald and his younger brother Hilary, that endeared the Warwickshire countryside to them. The rural location made a deep and permanent impression on Ronald when his imagination was opening out. Elements of his experiences, of local features and of local characters were to appear in The Lord of the Rings: the mill and the millers at Hobbiton, Farmer Maggot, mushrooms, Sam Gamgee, and his own fascination with trees.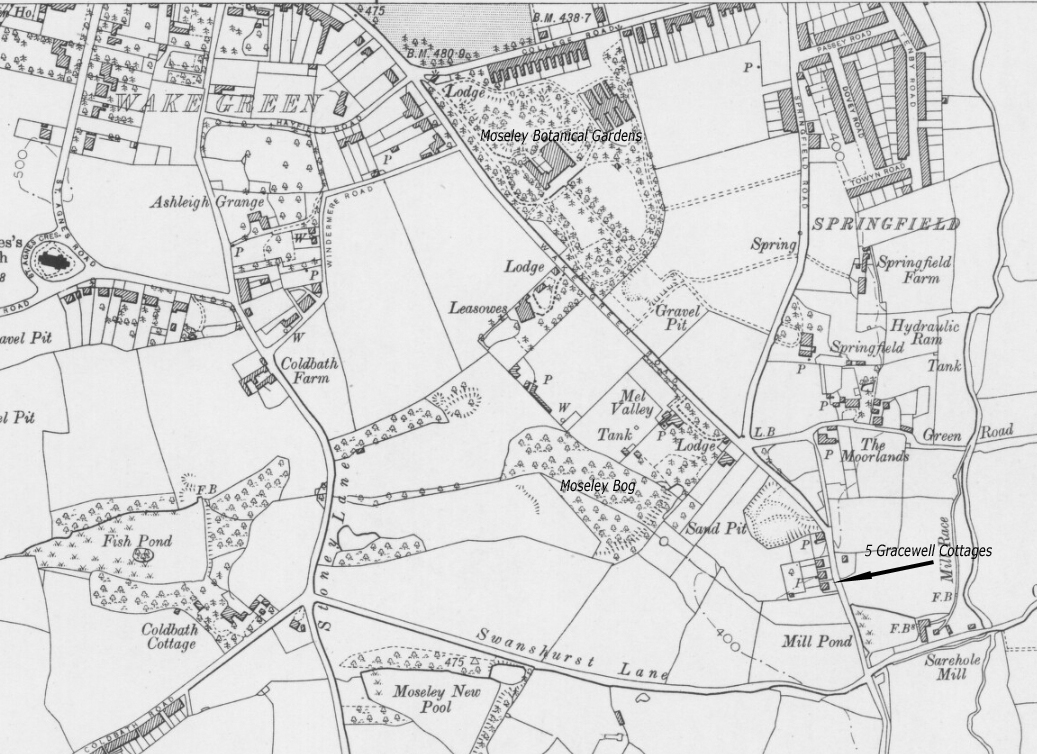 Figure 1. Extract from Ordnance Survey 6 inch map of 1905 with text additions.
Daniel Grotta, Tolkien's first, albeit unofficial, biographer wrote:
Mabel Tolkien also managed to instil in her older son an almost idolatrous of trees, flowers and nature, classical mythology and marching band music. He shared her enthusiasm for festival, pageants, parades and fireworks....
Humphrey Carpenter, the official biographer, wrote:
His mother taught him a great deal of botany, and he responded to this and became very knowledgeable. But again he was more interested in the shape and feel of a plant than in its botanical details. This was especially true of trees. And though he liked drawing trees he most of all liked to be with trees. He would climb them, lean against them, even talk to them.
It is puzzling that neither of these two biographers, or even Tolkien himself, felt it necessary to mention the proximity of Moseley Botanical Gardens to the cottage where the Tolkiens lived. It was only 600 yards away as shown on Figure 1. It occupied the site of an old gravel pit. Figure 2 is a 1893 photograph of its entrance. Note the posters advertising concerts, flower shows and fireworks. Robert Blackham in his excellent Roots of Tolkien's Middle-Earth reports on the firework display that took place here on the occasion of Queen Victoria's Golden Jubilee in 1897. The gardens folded about 1900.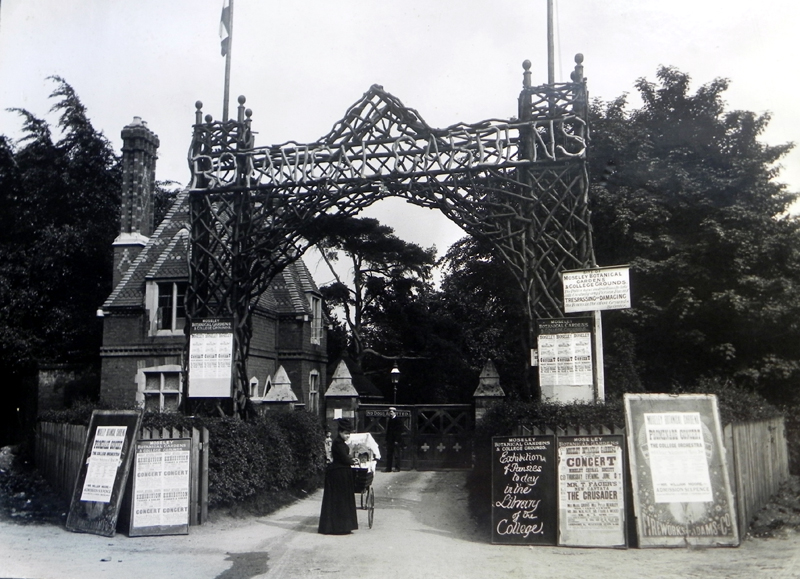 Figure 2. Entrance to Moseley Botanical Gardens. (R. Cockel)
In a rare interview in 1966, reproduced in The Guardian newspaper in 1991, Tolkien described how important the little hamlet of Sarehole on the rural edge of Birmingham had been in the development of his fictional vision:
It was a kind of lost paradise… There was an old mill that really did grind corn with two millers, a great big pond with swans on it, a sandpit, a wonderful dell with flowers, a few old-fashioned village houses and, further away, a stream with another mill…
Further on in the article he re-emphasizes the importance of his childhood memories of the area:
I could draw you a map of every inch of it. I loved it with an (intense) love… I was brought up in considerable poverty, but I was happy running about in that country. I took the idea of the Hobbits from the village people and children…
.In an interview with Henry Resnick, an American commentator, in 1967, Tolkien said:
I came to the English countryside when I was three-and-a-half or four - it seemed to me wonderful. If you really want to know what Middle-Earth is based on, it's my wonder and delight in the earth as it is, particularly the natural earth...I was also born with a great love of trees.
In a letter to his American publisher written in 1955 Tolkien wrote:
The ennoblement of the ignoble I find specially moving. I am (obviously) much in love with plants and above all trees, and always have been; and I find human maltreatment of them as hard to bear as some find ill-treatment of animals.
---
THE FLORA OF WARWICKSHIRE
Although the proximity of the Botanic Gardens just up Wake Green Road could have provided a more formal display of flora, it seems clear that Tolkien's boyhood discovery of plants and trees was made in the meadows, cornlands, woods, dells, hedges and waters around Sarehole. The River Cole was the main tributary of the Blythe, in an area of natural drainage the flora of which are dealt in detail in The Flora of Warwickshire, James Bagnall, 1901. Here are examples of the flora among the 882 plants and ferns listed that may have played a part in Tolkien's discovery of botany, especially trees.
Alder. Two types of alder appear, both listed as native, the rhamnus frangula, 'black alder' also 'alder buckthorn', found in woods and hedges, and the alnus glutinosa, 'common alder', found on the banks of rivers and near streams and pools.
Anemone.The anemone that is listed is the anemone nemorasa, that was found in woods, hedge banks and meadows and also has the names windflower and wood anemone.
Ash.The only ash tree listed by Bagnall is the fraxinus excelsior, a native found in woods and hedges.
Beech. The only species of beech listed by Bagnall is fagus sylvatica that was found in woods, coppices, hedges, etc.
Birch. The betula alba that may be native or denizen, ie imported at some time in the past, is more in preponderance in Warwickshire than the rare but native betula glutinosa.
Elm. The wych elm, ulnus montana, is listed as being either descended from natives or as denizens found in hedges.The only other elm listed is the ulnus campestris, a denizen.
Hemlock. Conium maculatum. Found in hedges, woods and pastures.Also known as the poison hemlock. (Of great personal importance to Tolkien; memorably not in Warwickshire but in 'a small woodland glade' near Roos in Yorkshire. Hemlocks set the scene of the meeting of Lúthien and Beren. (Letter 340)).
Linden. There are three types of linden tree listed but only one, tilia cordata, may be native. (LotR 1; IX).
Oak. The quercus robur is the only oak listed by Bagnall. Widely distributed in woods, coppices, hedges, etc.
Poplar. Of the four types of poplar listed, the native populus tremulus, the aspen, is the most widely encountered, two of the others being both alien and rare.
Willow. Bagnall lists seventeen species of willow, all native including silax fragilis or 'crack willow' and silax alba or 'common white willow'. (Judd identifies 'Old Man Willow' as belonging to one of these species. (LotR 1; VI)).
---
Hilary, the younger brother, played his part in the adventures around Sarehole. In his Black & White Ogre Country: The Lost Tales of Hilary Tolkien published in 2009 long after he died, he told how he and Ronald often visited a dell across the River Cole until a railway was built next to it. Appropriately enough, Hilary devoted his life, after the Great War, to plants. He became a market gardener in Worcestershire.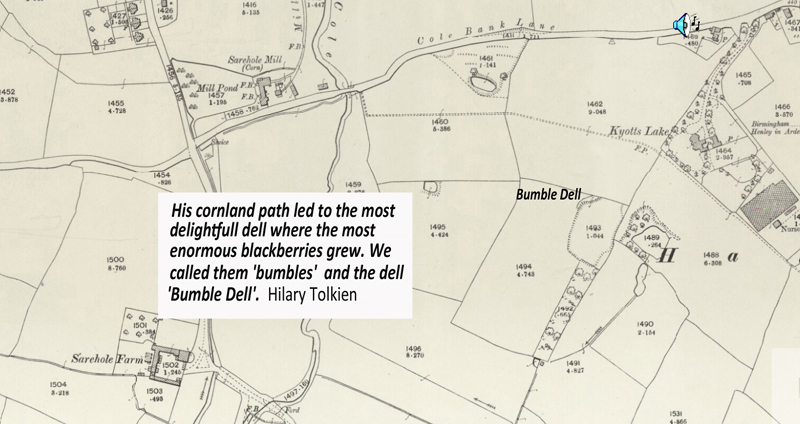 Figure 3. Ordnance Survey 6 inch map 1899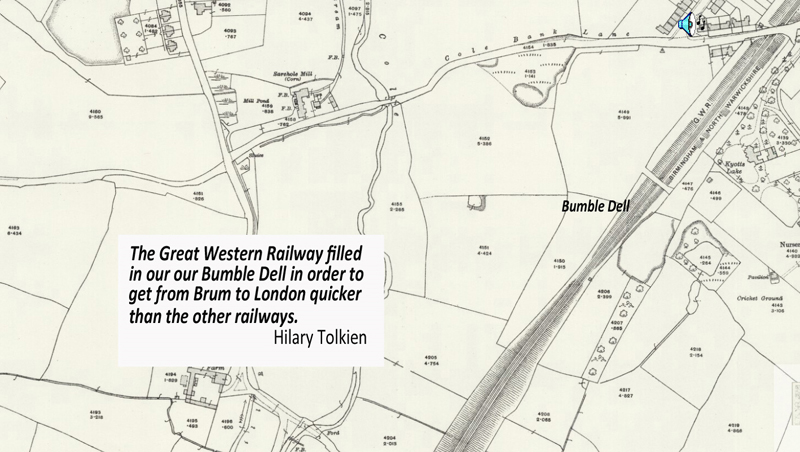 Figure 4. Ordnance Survey 6 inch map 1910. The dell was not actually filled in. It is now a school car park. Sic transit...
---
THE FLORA OF BUCKLAND HALL, BRECONSHIRE
Other webpages on this site present compelling factual evidence that Tolkien became familiar with the Buckland Hall demesne in Breconshire. In particular, one page demonstrates that the Breconshire Buckland played an important part in the Genesis of The Lord of the Rings. This page tells of the attractions in the gardens of Buckland Hall that he would have met and possibly recalled many years later.
The gardens at Buckland Hall were developed during the nineteenth century and by Edwardian times had become famous. Figure 5 is a cutting from The South Wales Daily News of August 1912.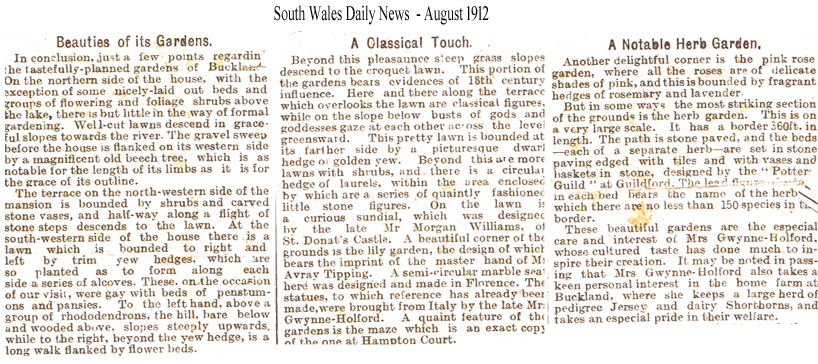 Figure 4. Buckland Hall Gardens. One of a series describing famous gardens of South Wales
.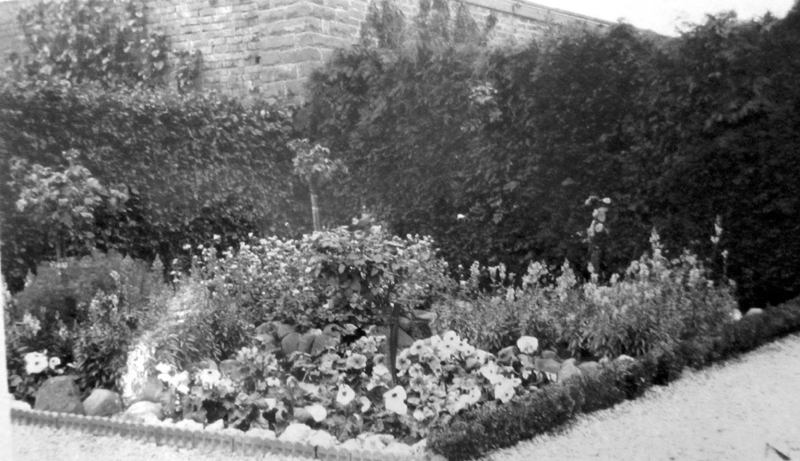 Figure 5. Eleanor's Garden, 1912. Eleanor (Nell) was the young daughter of the Gwynne-Holdfords.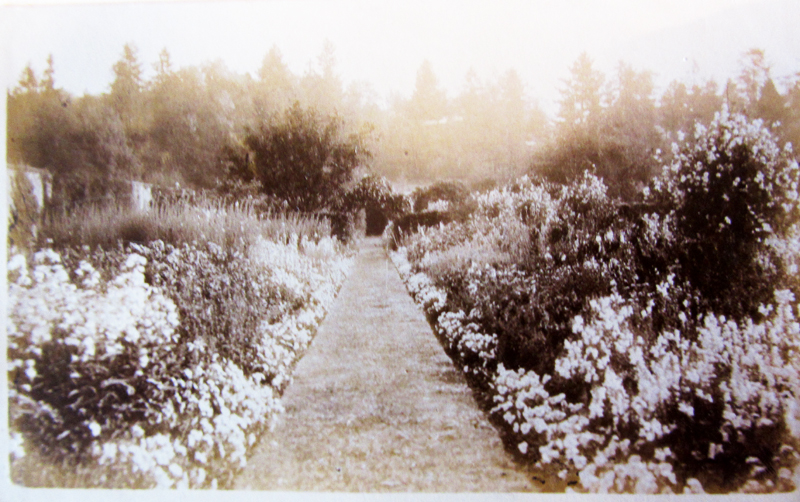 Figure 6. Herbaceous borders, 1912.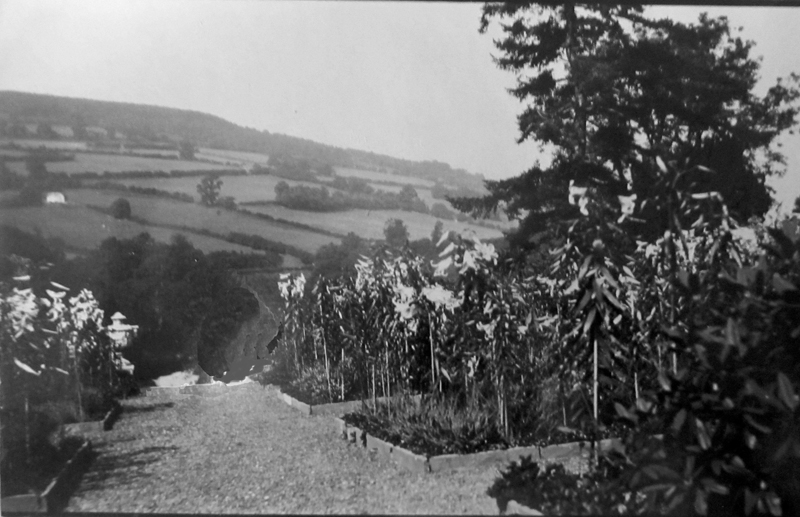 Figure 7. The Lily Garden, 1912.

Figure 8. From Brecknockshire. C J Evans, Cambridge Uinversity Press, 1912.
"Edin Muir, reviewing The Two Towers in the Observer on 21 November 1954, wrote of the Ents: 'Symbolically they are quite convincing, yet they are full of character, too, as formidable and strange as a forest of trees going to war.' (Letters. Note 157)"
---
In The Tree Register of Great Britain and Ireland the present arboretum at Buckland Hall is described as containing rare trees, some in 1905 being 300 years old. Included are examples of Purple Sycamore, Weeping Mulberry, Black Oak and Silver Lime that are the largest of their species in Wales. Examples of the Monkey Puzzle, Western Hemlock, Common Beech, Irish Yew and Oriental Spruce are County Champions in Powys. The regimented ranks of the Waterloo Trees may have excited the young Tolkien's imagination. Even today there are many other magnificent trees gracing the parkland that is now sheep pasture: huge copper beeches, stalwart oaks, elderly cottonwoods and a broad-leafed lime amongst others. No longer tended and increasingly prone to stormy winds they are memorials to another age.
In the mid-nineteenth century, Charles Kingsley coined the term 'pteridomania' to describe the craze for the cultivation and display, often indoors, of ferns. Buckland Hall did not escape this enthusiasm; a fernery was constructed next to the ice-house portal. Figure 9 shows the fernery at Bentmore in Argyll; the fernery at Buckland is now in a worst state than this one. Early twentieth century photos of the interior of Buckland Hall show it had large ferns on display, ie it was 'ferny'.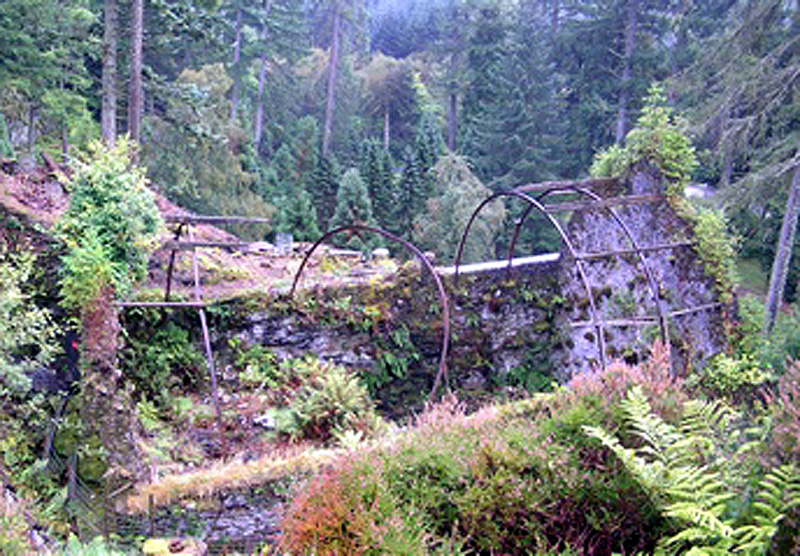 Figure 9. The Fernery at Benmore
The magic of the Buckland demesne, the surrounding mountains, the maze, the exotic foliage in the fernery, the arboretum with its strange trees, the forest, Coed Tewion, the Wild Dingle through which a tributary, lined with willows and aspens flowed, the huge Herb Garden, the brilliant displays of flowers, may have manifested themselves in The Lord of the Rings. We can speculate that the parkland and its botany made a lasting impression on him because an English language place-name shines through: Buckland. It may have been affection for Buckland that led Tolkien to extract it from Breconshire and implant in Middle Earth on the border of an essentially English rurality, his beloved Shire. Maybe Tolkien was so proud of the Englishness of The Shire that he was reluctant to confess that he had attached it to a little part of Wales at the genesis of The Lord of the Rings.