FATHER FRANCIS, SCION OF A NOBLE FAMILY
The Morgan Family of Tredegar, near Newport, claimed descent from Cadifor Fawr, lord of Cil-sant, who died in 1089. The ancestors of Father Francis considered themselves to be a branch of this family. A great-grandfather was Aaron Morgan.

From Oporto, Old and New, Sellers, 1899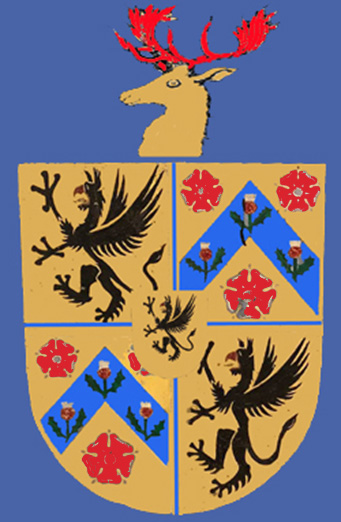 The arms of Sir Charles Morgan Bart., of Tredegar, Monmouthshire
Aaron is recorded as being able to illustrate this superior genealogy and its heraldry. He was employed as a clerk by a port and sherry shipping company in London in the Lisbon trade. In 1803, he became a partner in the wine merchants, Dixon, Morgan and Co. After Aaron's death in 1818, his son Thomas played a leading part in managing the business. A griffin segreant and a stag's head crest, devices of the Tredegar Morgans, appear in a stained glass window in St Olave's church near the Tower of London that commemorates Thomas's service as a churchwarden.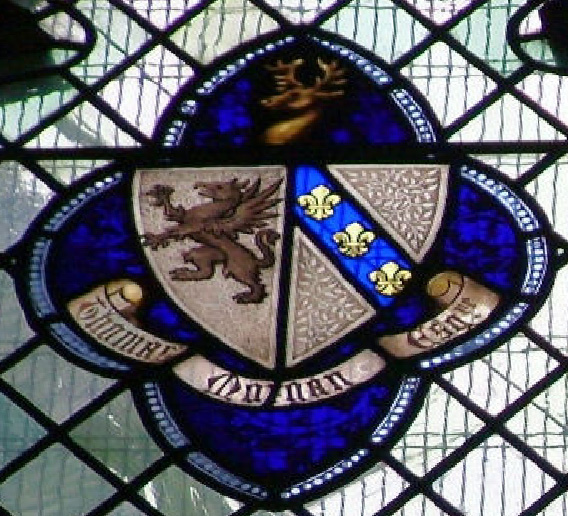 Argent, a griffin segreant sable, impaling argent, on a bend azure, three fleurs-de-lis. Crest, a stag's head couped.
(The impalment, fleurs-de-lis on a bend azure, is that of his wife, Elizabeth Bonney)
While Thomas Morgan managed the London end of the business, Francis, one of his sons, moved to Andalusia in the 1840s. He established the company's own network of production and exporting of sherry, fast becoming the favourite of the tippling classes. He married Maria Manuela Osborne, a Roman Catholic, daughter of one of the largest brandy and sherry bodegas in Spain. Their third son was Francis Xavier Morgan Osborne, born in 1857 and brought up as a Roman Catholic. When he was twelve, Francis was enrolled at the Oratory School in Birmingham. He received a higher Catholic education in London and the University of Louvain in Belgium. Returning to the Oratory he was ordained in 1883.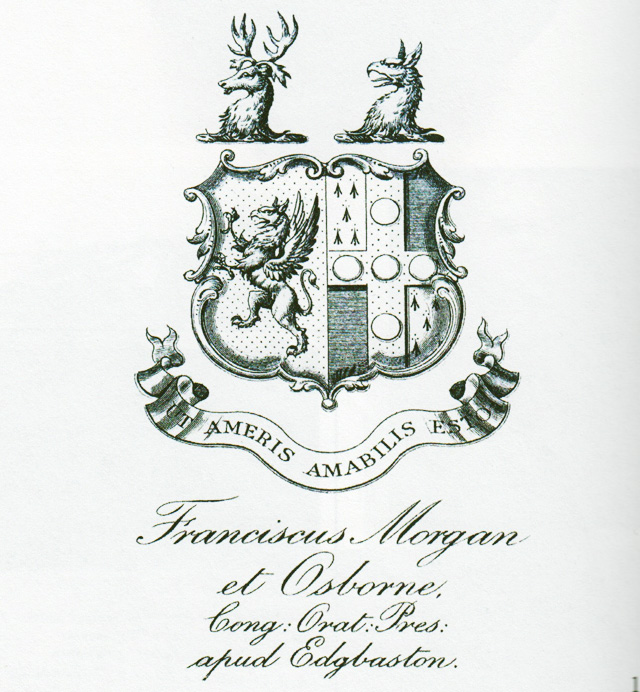 A bookplate of a surviving volume from Fr. Francis's library. The griffin segreant and stag's head crest are incorporated in the arms. The other impalement and crest are that of the Osborne family. Source: J M F Bru.

Why did Tolkien describe Fr Francis as Welsh? Born in Spain, father born in England, a grand-father, the one we know about, was born in England. A great-grand-father, one of eight great-grand-parents, was born in Bristol. Nevertheless he and his antecedents considered themselves to be Welsh. Look at the charges: the griffin segreant and stag's head crest of the Tredegar Morgans.
Taking a holiday with the boys after the death of Mabel Tolkien would have provided relief from grand-parents' fury in Birmingham at her Tolkien appointment of a Roman Catholic priest as the person to bring up their grandsons. She expressed her wishes in her Will shortly before she died. It also would have been an opportunity to make his number, or even reconnect, with the Tredegar Morgan family, impress the boys with his own noble lineage and maybe expose Ronald to some spoken Welsh a language he must have known fascinated him.

GODFREY CHARLES MORGAN, 2nd BARON TREDEGAR
In the late-nineteenth century, the most recently renowned member of the Tredegar Morgans was Godfrey Morgan (1830-1913), hero of the Charge of the Light Brigade, Tory MP for Breconshire 1858-1875, 2nd Baron Tredegar 1875, and later raised to a Viscount in December 1905. His main residence was Tredegar House near Newport. Lord Tredegar was arguably the most famous Welshman after Lloyd George. His philanthropy and his patronage of many causes made him greatly admired, indeed, loved by all classes and political parties. An Anglican, his fair-mindedness is exemplified by a report in The Catholic Fireside in 1899 that named him as 'the most popular man in South Wales'. He was eminently approachable.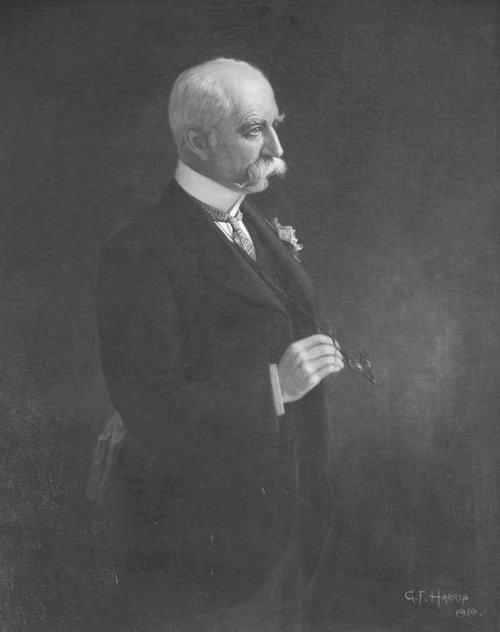 Lord Tredegar in 1910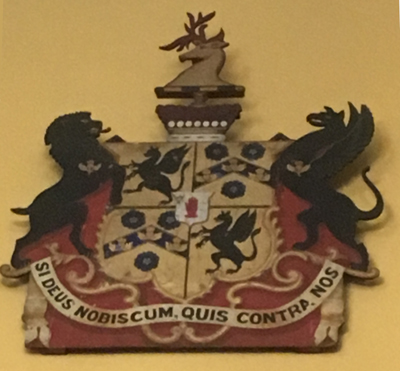 Viscount Tredegar's arms; December 1905. (With thanks to Tredegar House)
Step 1. This thread has followed heraldry in the search for the connections that led to the discovery of Buckland Hall by Fr. Francis. His conviction he belonged to a branch of the Tredegar Morgans has been illustrated.
If Fr. Francis and the orphans were received by Lord Tredegar at Tredegar House near Newport, they could well have enjoyed the beauty of the deer park only to a limited extent. In those years this beautiful landscape, alongside the River Ebbw, was overshadowed by extensive heavy industry and a concentration of railways serving the burgeoning port. But there was an escape beckoning from the industrialisation around Newport: the Brecon Beacons and Buckland. Fr. Francis and the Tolkien boys cannot have stumbled upon this private parkland by accident; somebody must have told them about it and invited them to visit. We now introduce James Price William Gwynne-Holford, Master of Buckland.
JAMES PRICE WILLIAM GWYNNE-HOLFORD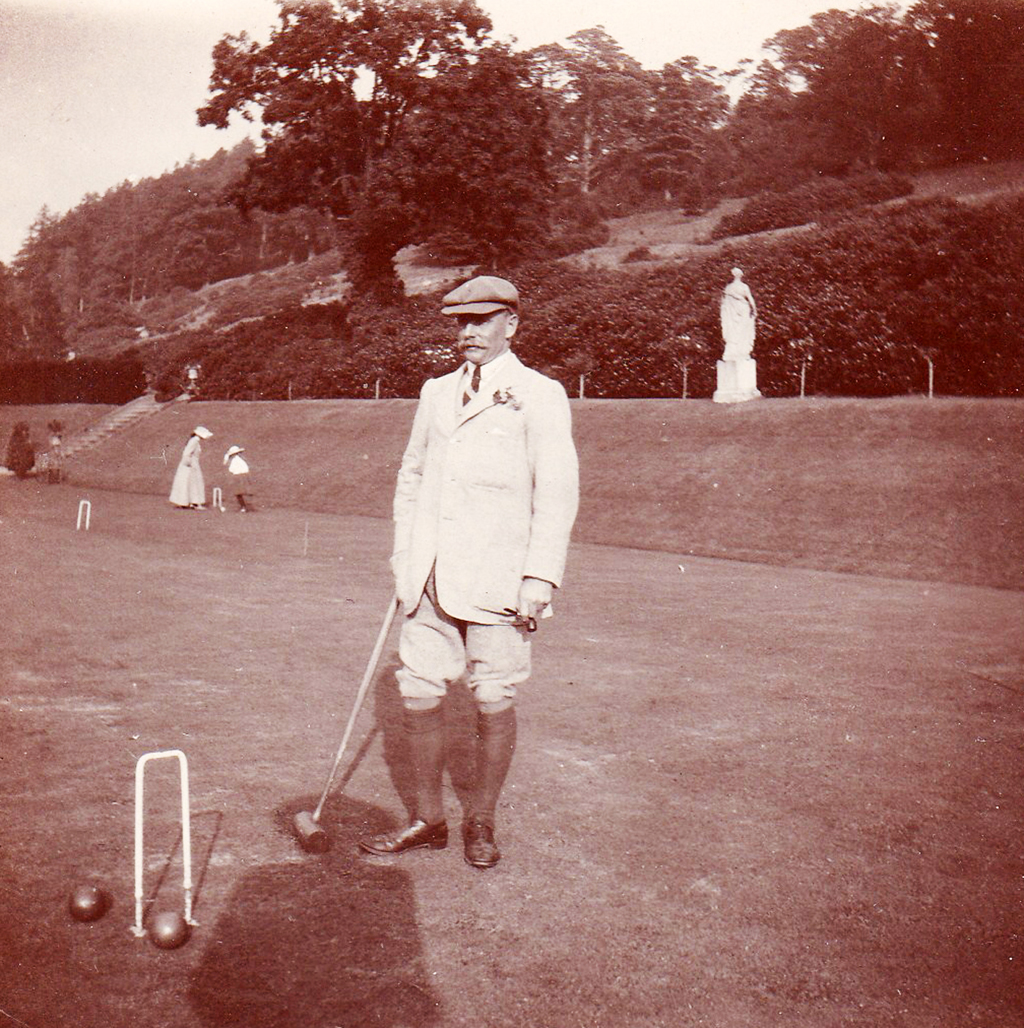 J P W Gwynne-Holford on the croquet lawn at Buckland Hall circa 1910. His wife, Mary Eleanor, and their daughter Eleanor are in the background.(With thanks to Mary Redvers)

Step 2. Connections between Lord Tredegar and J P W Gwynne-Holford are important and numerous; peas in a pod. They had recently cooperated in the foundation of the Welsh Pony & Cob Society, in 1901. (These were Welsh Mountain ponies, some bred at Buckland Hall, some hobbit-sized at 12 hands (122 cm)).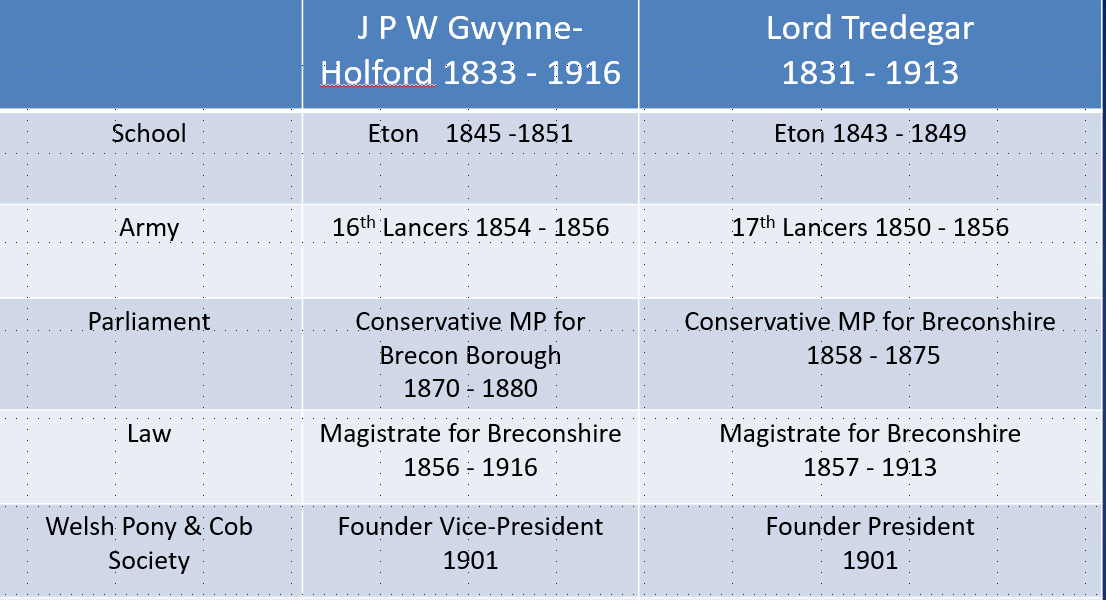 Step 3. A connection between Father Francis and J P W Gwynne-Holford has already been seen. The former's great-grandfather, Aaron Morgan, was active in London in the Lisbon trade. So also was the great-grand-father of the Master of Buckland. This Portuguese document that contains historical excerpts relating to the Peninsular War (1807 - 1814) confirms a relationship between the two great-grandfathers. They may not have known each other but they certainly would have know of each other. Something for Father Francis and J P W G-H to chat about if they met in Buckland Hall!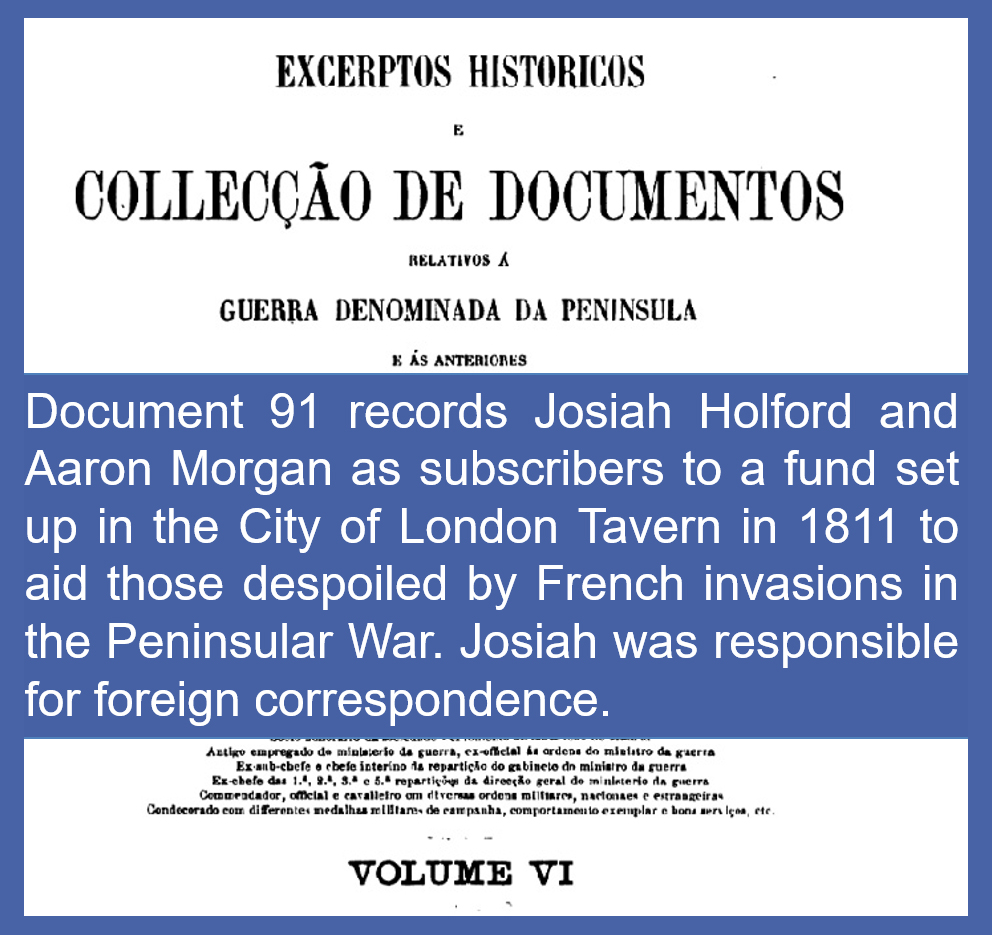 The triangular relationship between the three principals is shown below: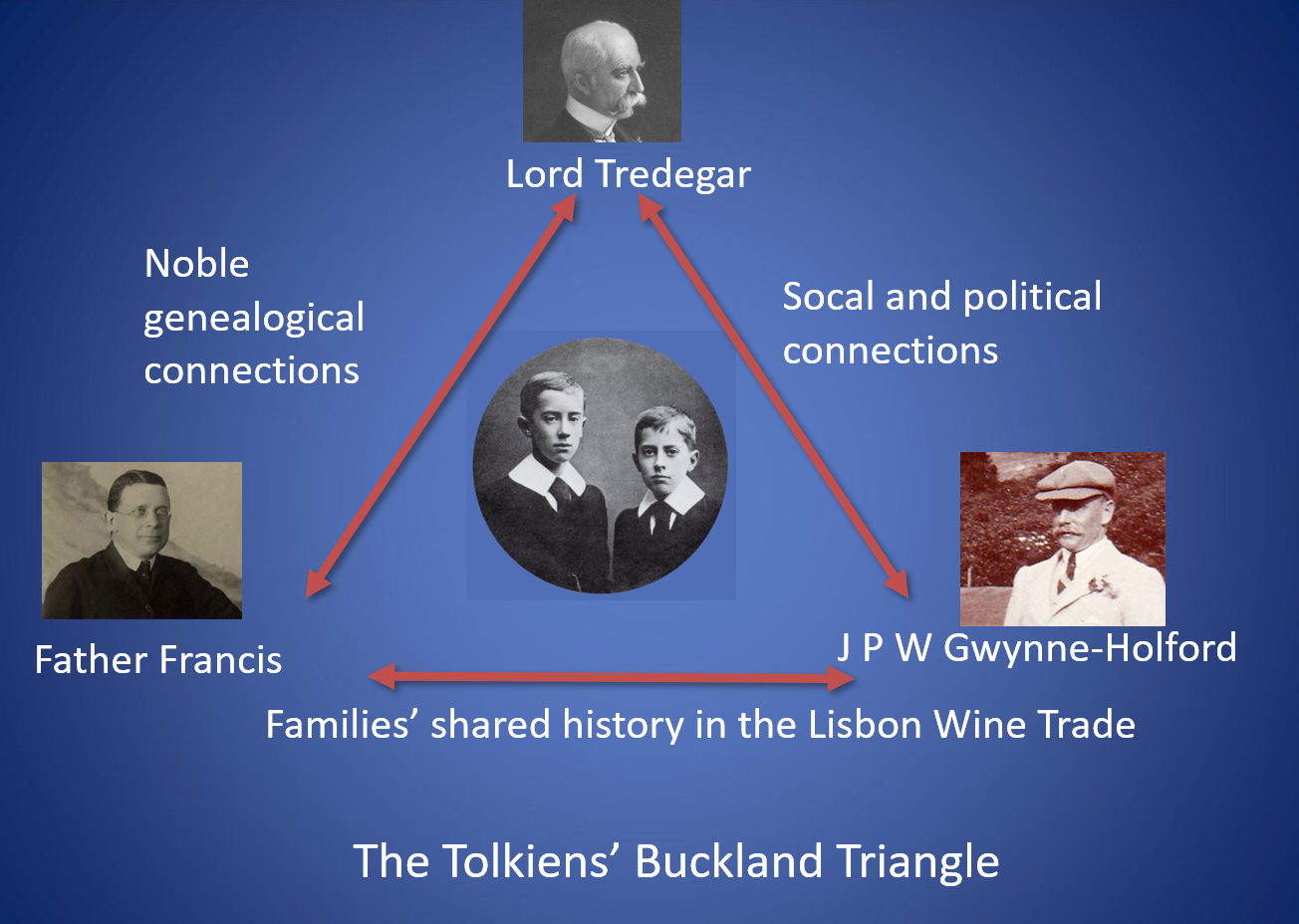 Something else to ponder. Travel from Tredegar House near Newport to Talybont would have been on the direct connection on the Brecon & Merthyr Junction Railway. Was this the inspiration for Tolkien's remarks in a famous lecture on seeing the Welsh station names on a journey in Wales?